Watch Ya' Mouth Game - Throwdown Edition


December 4, 2017 by Ronda

As a family, we spend a lot of time together, but it isn't always quality time if each of us have our face focused on a cell phone screen. I'm frequently looking for new ways for us to have fun together while at home. I have seen the Watch Ya' Mouth game on quite a few viral videos and I always wanted to play! I was so excited when mine arrived!

Disclaimer: This post contains affiliate links. I may receive a small commission if you make a purchase after using my links.

We've played a few times now, and each time was a blast. Lots of laughs, pointing and yes...even some drool.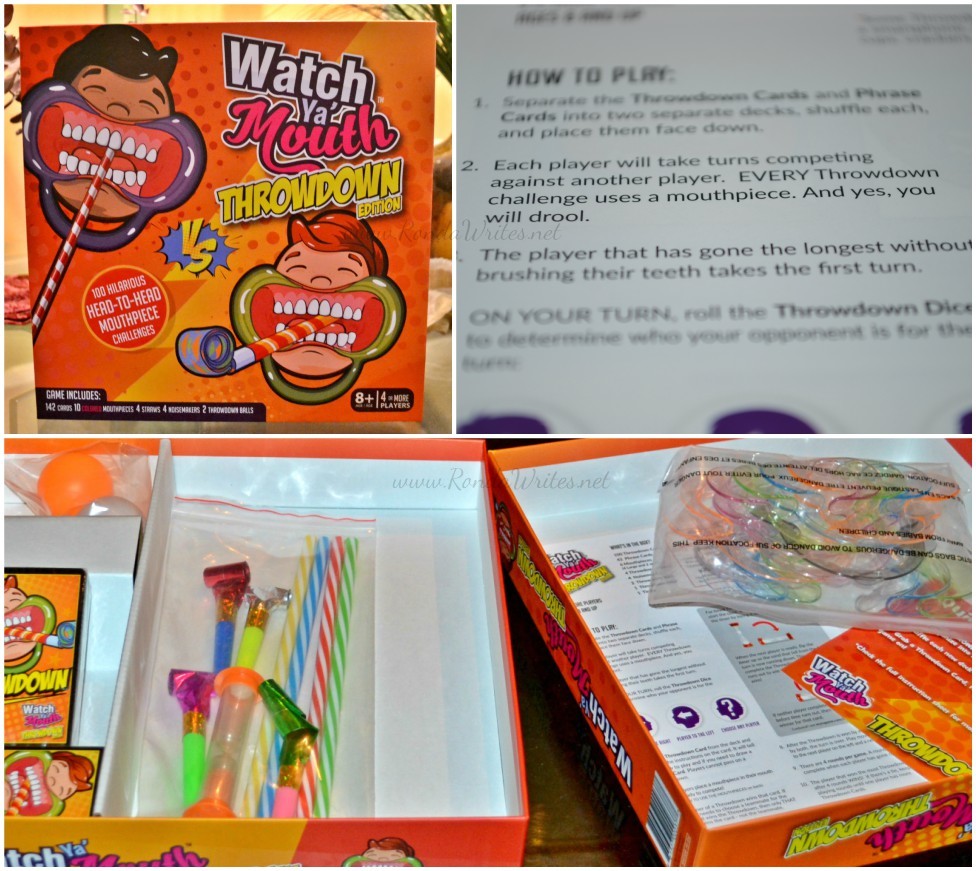 The box had more props than I was expecting.


Included are:




142 cards (Phrases and Throwdown)




10 colored mouthpieces (so you won't accidentally

use someone else's)

4 straws

4 noisemakers

2 Throwdown balls

Timer

Dice

The mouthpieces are washable (by hand, boiling or top rack dishwasher). If necessary, additional mouthpieces can be purchased.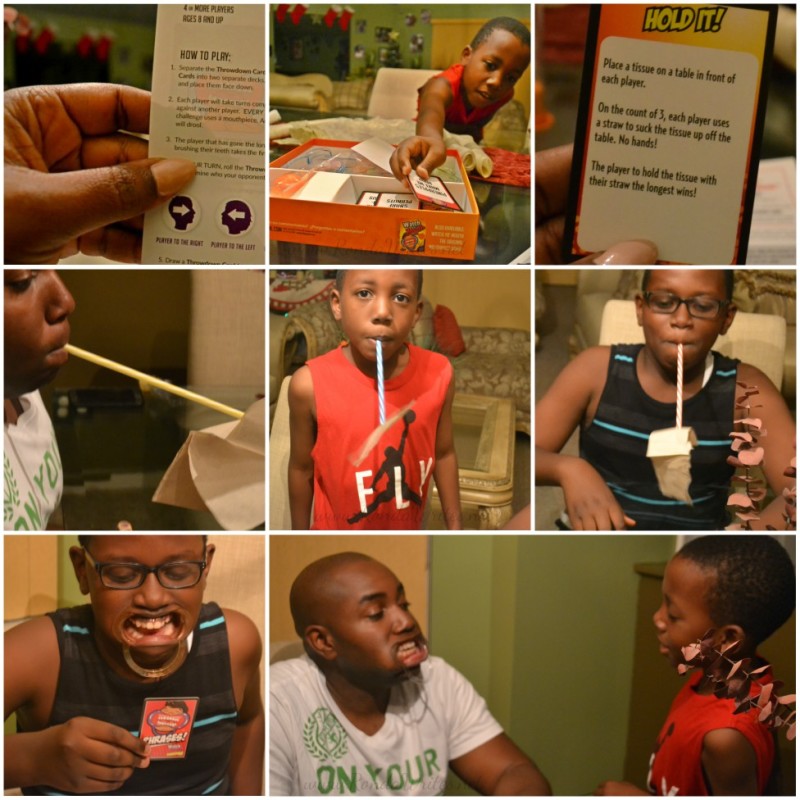 To play, roll the dice. The dice has arrows on it and question marks. The arrows dictate who you will compete against and the question mark allows you to choose your opponent. After you roll the dice, pick up a "Throwdown Card" and follow the instructions.

The challenges can be pretty random and call for items you have around the house; like tissues, cups, even crackers. My favorite challenges were the ones that required me to get my teammates to do things without being able to gesture to them. Barely being able to speak and not being able to use my hands took creativity.

Only thing that would've made this even more fun would have been tougher phrases to guess. We got through the Phrases fairly easily, but took more time on challenges that involved props. Nonetheless, this was a fun game and would be even more fun at a family gathering with even more players! I can't wait to play this on Christmas!


Interested in playing with your friends or family as well? Here's a special offer for you!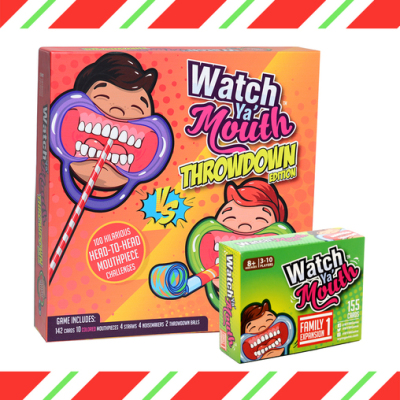 Watch Ya' Mouth Throwdown Edition is the evolution of the original, wildly popular, hilarious Watch Ya' Mouth game. Rather than just speak phrases, players now go head-to-head with hilarious and challenging tasks - while wearing mouthpieces.

Throwdown Edition takes competition - and laughter - to the next level and builds on the multigenerational gaming phenomena.

Throwdown Edition has already been Awarded Top Holiday Toy of 2017 by Toy Insider & selected for the 2017 Amazon Holiday Toy List.

Save 15% off the game by using coupon code: 15WYM


This version is appropriate for children and adults, but if you're interested in an adult version...that's also available!