So, You Respect My Work, But...

June 10, 2015 by Ronda

So, you respect my work, but would like me to blog about your company or product for free? Well, for exposure? I'm sorry, but that no longer works for me!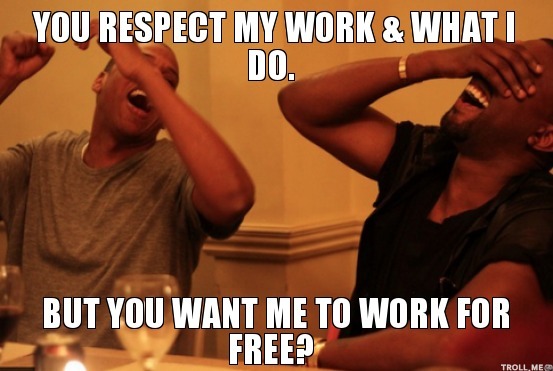 I absolutely love blogging. I love visiting locations I've never heard of and trying products I didn't know existed. I love browsing the World Wide Web and seeing an outfit I like and sharing a post on pieces of clothing I put together. I just enjoy sharing my thoughts and thankfully there are people out there who enjoy reading it!

I also enjoy posting random thoughts that enter my head, hence the blog name "Ronda Writes -- Total Randomness". However, what started out as something done in my spare time, has grown. So have my needs.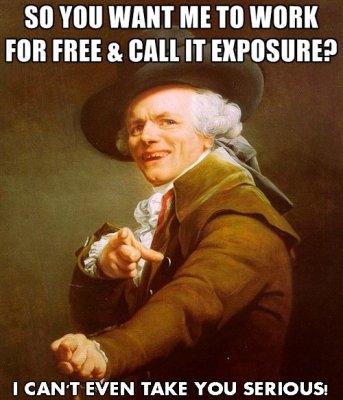 Example of why I wrote this post.....


(not the actual product, but gives you an idea!)

Them: Hi Ronda! We'd love for you to try our new product,
the all new "Pickle Juicer 2.0" (shipped to you free of course) and
share it with your readers. We can't pay you but it will be great exposure for you!

Me: Thank you so much for considering me for this opportunity,
but unfortunately I will not be able to participate. (While thinking, "Exposure?"...."

Do people really buy pickle juicers?")

Often, I receive emails from companies interested in having me try their product and creating a post about it. In most cases, the companies respect my time and work. They realize blogging isn't just about someone writing a post no one will see and it vanishing into the sunset after the company receives a few new hits to their website. Nope! Aside from the posts lasting as long as the blog does, it takes time, effort, and actual WORK to make it happen. We worked hard to start a blog and following from the ground up. All while maintaining a family, extracurricular activities, a household and in many cases a day job. Blogging, for the love of ranting and raving! After a while, we've earned more than exposure.

Yes, the company is sending me the product FREE. However, unless it's something I intended on purchasing in the near future, or something I actually have a need for, what benefit am I receiving from posting about it? The last thing I'd like to see in correspondence is, "It will be great exposure for your blog". When it comes to "exposure", unless the product is a hot commodity, there aren't many people searching the Internet for blogger posts regarding that product. We [bloggers] work SEO and Social Media to make it a hot commodity. So, that's actually great exposure for you [company]!

Just incase you think this is a snooty post from an angry mom blogger, let me clarify! I'm still as cheerful as ever! I do not charge for posts...I charge for the work that went into writing the post. Specifically, assignment posts. Posts that come with specific requirements, those that require testing a product for some time, photos and maybe includes others.

An honest, unbiased opinion is all I am willing to provide.

I will not write a positive review for a product I did not have a positive experience with, no matter what the company is offering! This is why I only choose to blog about products I have an interest in. However, just because I have an interest in a product, that does not guarantee that using said product will be smooth and everything will be favorable. My experience will be shared with my readers.

My blog is no longer just a hobby, it's an outlet. But, when it feels like work, I expect to be compensated for it.