Ozeri 3x Tower Fan Review

December 10, 2014 by Ronda
The Ozeri 3x Tower Fan was literally the easiest fan to put together of all fans I've ever had to assemble. In addition, the base is the strongest, most solid. It actually feels as strong as the Ozeri bathroom scale I was given to review.

Because I had the opportunity to review the Ozeri Ultra 42" Tower Fan , I have something I can compare this to. It's really nice, but what I like most about it is the options. It only took common sense to put it together, and common sense to figure out how to use the remote. The only thing that was a bit tricky was figuring out how to put the battery into the remote.
Disclaimer: This post contains affiliate links.

Placing battery into the remote:
The photo on the back of the remote should be obvious enough to figure out. The problem is, my nails are cut to the core so getting my nail into the tiny space to press the battery holder inward and pull out was not easy. Instead I had to press my thumb (skin) into that area and use my thumb and index finger to pull it out.

About the fan:

44" height

13 lbs.


Timer / multiple settings

Up to 9 cooling levels

LED control panel


Remote control

Oscillating

Fans can work all at once or alone.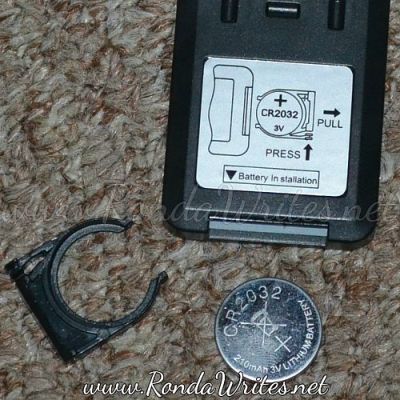 This fan is really light and easy to transport to any area you'd like to keep it in. After "permanently lending" my mother the other tower fan I was given, I thought I would probably ask for it back, but I no longer have a need to. This one offers more in terms of keeping us cool without making us cold.

Let me explain: Initially I didn't understand the point of three fans on one machine, especially since it's a tower fan. I only figured out how it would benefit me after using it in my son's bedroom. He has a ceiling fan and complains of being cold when it's above him on low. When I turn it off, his room feels humid, even though it's winter and cool outside (FL cold). I decided to try the Ozeri 3x Fan in his room, keeping the middle and bottom fan of the tower oscillating on low. I also turned the fan towards his wall (a few feet away from the wall, but facing it), this way air can flow throughout his room, but it's not directly on him causing him discomfort. This worked out well. No sniffles in the morning as he sometimes get with a fan, and no complaints!

Final thoughts: So far, so good. This is an Ozeri item and so far I've been more than happy with the quality of their products, but if there are any changes, I'll be sure to update this post!