Hickies Never Tie Laces Offer & Review

October 13, 2017 by Ronda
If I had a dollar for every time my children came off the school bus with shoelaces untied...

Disclaimer: This post contains affiliate links. All opinions are my own.

They can double tie their laces before we leave home, think they tied it tightly but for some reason it unties by the time they get out of the car and walk towards the school bus. Same issue occasionally when they're coming off the school bus. At one point I was adding tiny claw clips to their shoes, just to keep them from untying.

If you have a similar issue, check out HICKIES Never Tie Laces.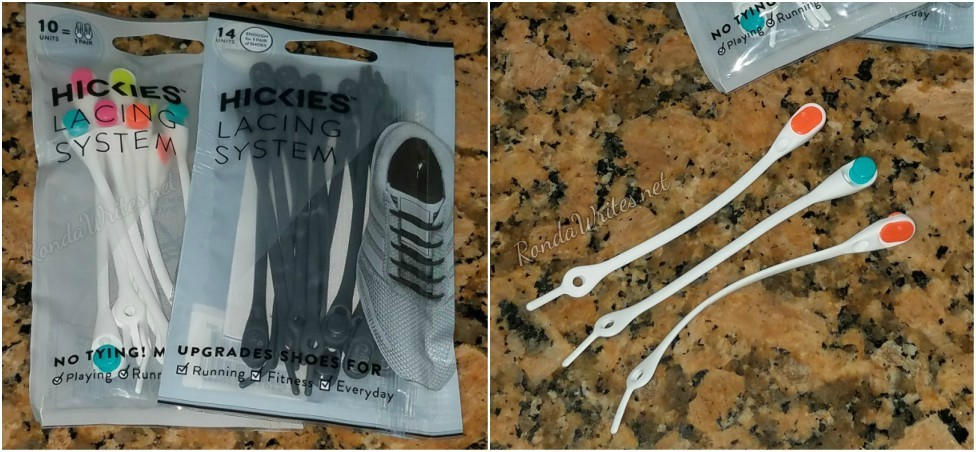 I received a colorful pack for kids and a standard size pack in black to experience. I have boys, so they weren't very interested in the colors I received in the kid-size, but on HICKIES.com you can find many color options available. The kid size laces were a little tight for my 9 year old's shoes when attaching them to each sneaker lace hole. They were perfect when leaving a space between each of them.

The HICKIES Never Tie Laces stretch, but they maintain their pull keeping your sneakers tightly fastened. Included in the package are directions for using the straps and different patterns for wearing them so they can fit regular, loose, tight, or extra tight. They are very easy to use. Just pull it through the lace hole, push one end into the other and connect the two ends by "buttoning", similar to a shirt. (see demo photo below)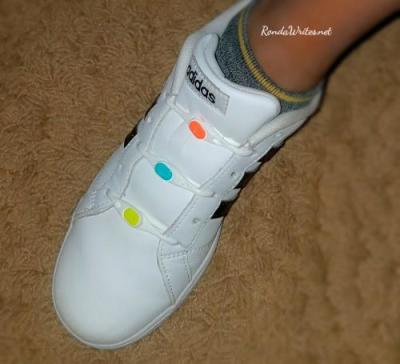 What I first noticed after attaching them were how secure it kept my son's sneakers to his feet. I buy children's shoes a 1/2 size bigger so they have a little room to grow (sometimes a whole size bigger if it was expensive or the shoe is narrow). If they wear crew socks, no problem. But, if they wear light ankle socks, which is what is preferred when it's hot outside, occasionally my younger son's heels would come out of the low top sneaker. Even with a double knot.

He's 9, and doesn't want a "mom tie". He likes the idea of Never Tie laces and chose to have them spaced out, because having one in each lace hole made his shoes uncomfortable. Spacing it out kept it secure without being too tight. The top strap kept his heels from lifting out of his shoes each step. With adult size laces, I can place them in each hole, leaving the top two holes clear and he's comfortable. Plus, he likes the all black set to match his Adidas'.

This is a really cool and handy creation. Not just for my children, but for me since I sometimes have to stop during a bike ride to deal with my laces. I just need a set in a loud, noticeable color!