General Tso's Chicken at Home


April 12, 2017 by Ronda


Not something I usually do, but I came across something I was eager to share!

I like Chinese food, but I haven't had food from a neighborhood Chinese restaurant in years. The closest I've come to enjoying some was going to P.F. Chang's last year, but it still doesn't compare. So I have been getting my fix of egg rolls from the Publix freezer section.

General Tso's chicken is one of my favorites, but from scratch it's a bit ingredient and time consuming. I didn't think I would make the dish at home again. That was until I passed bottles of sauces from Aldi's Fusia Asian Inspirations while grocery shopping. I never tried ready made stir fry sauces before, but the under $2 price tag and photo on the bottle made trying it an easy decision. I picked up some chicken breast and already knew what I would be making for dinner!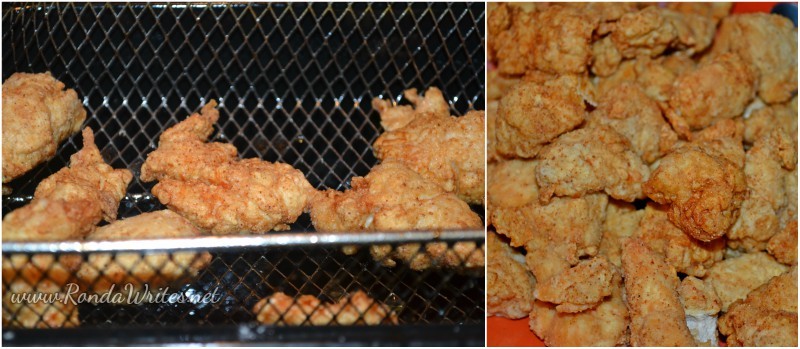 The most time consuming part of this meal was frying the chicken. After cleaning the chicken, I cut it into smaller pieces. I mixed the chicken in a bowl with cornstarch to create a bit of a paste. Then I covered it in flour that I mixed with seasoning and placed it in the deep fryer. I did not use an egg to coat the chicken. I ate one. Okay, I'm fibbing...I ate two pieces of chicken. For "research" purposes I had to make sure it tasted good. I usually fry my meat to a darker color, but because the chicken would be put in a pot afterward, I didn't want it to get hard. Also, I usually season meat and let it marinade overnight or for at least a few hours. This, I was making immediately. I don't know anyone who enjoys bland meat.

Oh my gosh, the chicken was so good I was tempted to stop there!

After frying a majority of the chicken, I placed them on a dish with paper towel to soak up the oil. In a frying pan, I sauteed onions and green peppers and added the steamed broccoli. My kids like the onions, peppers and the broccoli mixed in with their meat instead of on the side (most restaurants serve the broccoli on the side). I then added the chicken and poured the Fusia Asian Inspirations General Tso's Asian Sauce. Finally, I mixed everything well.

Taste-wise the sauce is pretty much the same as what you would get in a Chinese restaurant. Only difference was it had a tangy hint to it that was a bit more than I'm used to. I added two packets of soy sauce and a little honey, problem solved!

Our dinner was delicious. I can't wait to try the other flavors!