3WISHES.com "Adorably Draped" Lingerie


February 18, 2015 by Ronda

We're all adults, right? So I can admit that I have a thing for lingerie. So much so, that I own two drawers full. I have a drawer full of pieces I looked good in, in my former body :) The other drawer has pieces I look good in, now! While I have a "kangaroo pouch", I choose outfits that would cover my midsection. I haven't purchased anything new in probably a year, so I was really excited to have a chance to review lingerie from 3WISHES.com!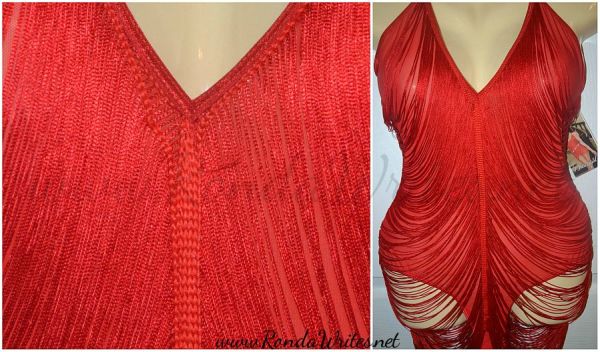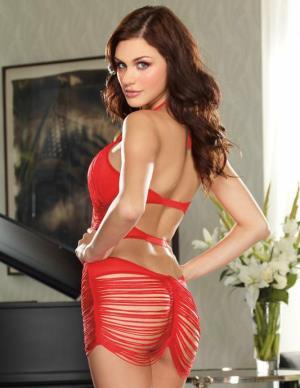 I never heard of the 3WISHES.com website, but they have some really nice sets and affordable prices. The piece I fell in love with was the Adorably Draped set. Red with stretch mesh, lots of strings and a sexy strappy back. I wear a size 10 but I have a 38DD cup size, so I chose the XL so it wouldn't fit too tight, but after receiving it, I realize I should have chosen a size L, because the XL is roomy.

When the package arrived at the house I couldn't wait to open it. Once opened, I saw that it was in a plastic garment bag and on a hanger. Good packaging, unfortunately there were a few issues with the lingerie once I gave it a good look. (see photo 1)

Being familiar with mesh lingerie, I know how delicate the material can be, especially strings on the lingerie. In the cleavage area, I initially thought I received a defective piece, but after acting like inspector gadget, I noticed the braided area was not sewn down, so all I had to do was gently hold the strings while moving the braid upward and it looked fine (see photo 2). Then I just clipped the loose string off so there would be no pulling which would totally ruin the set. Perfecto!


Once I put on the Adorably Draped lingerie, I have to admit I looked pretty good, ha! The only thing I noticed is the strings do not cover the breast area as much as it does in the photo, could be because of my cup size. I'm assuming the larger sizes come with more mesh, less string. I guess our men won't be complaining, right? Either way, this is a nice set and I'm glad I chose this one!

Check out a few of my other faves!

I absolutely love the center outfit, "Shimmer Lingerie Set". I have no idea why I didn't chose that one, but I have to have it now!